WHAT IS LYME DISEASE?
Lyme disease is a bacterial infection transmitted to humans primarily through the bites of infected deer ticks. It is the fastest growing vector-borne infectious disease in the United States according to the CDC.
LYME DISEASE IN PA
Over the last five years PA ranked first for reported cases in the U.S.A. The PA Department of Health reports that there were 5758 confirmed and probable cases of Lyme in 2013 with 7,400 cases, a 25% increase, in 2014.
TRANSMISSION
Lyme disease is transmitted mostly by the nymphal deer tick. At this stage, the ticks are the size of a period at the end of a sentence. Many people are not aware when they've been bitten by a tick and may not make a connection
SYMPTOMS
Initial symptoms may occur within a day or a week, and often people think they just have a flu or virus. Symptoms include fever, headache, general achiness, swollen glands, fatigue and a possible rash. But some patients may present with only neurological symptoms.
MISDIAGNOSES
Lyme disease is known as the "great imitator". Over 150 common Lyme symptoms are core symptoms of other diseases. It takes a skilled medical practitioner to recognize the patterns of what may seem like unrelated symptoms to make a diagnosis of Lyme disease. Lyme disease is frequently
CHILDREN AND YOUTH
Children and youth are the most likely victims of Lyme and other tick-borne diseases. Their initial symptoms may go unrecognized and may be considered normal childhood illnesses, allowing the disease to progress undiagnosed and untreated. By the time it is clear there is something wrong,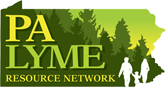 TERMS OF AGREEMENT
Privacy Policy
PALRN collects certain types of information about our users. This Privacy Policy tells you what kinds of information we collect and how we use it.
PALRN collects information from you when you respond to a survey or fill out a form. Any of this information may be used to improve our website or printed publications, to improve our organization's customer service, and to process transactions. We will not sell, give or otherwise exchange your personally identifiable information with any third party for any reason without your consent, other than for the purpose of delivering the product or service you requested. We may also release this information when we believe release is required to comply with the law, enforce our site policies, or protect our rights, property, or safety or that of others. We may provide non-personally identifiable information to third parties for marketing, advertising, or other uses.
We use a variety of security measures to protect the information you provide to us.
We will not knowingly collect information from anyone under 13 years of age. Our website, products, and services are all directed to people who are 13 years old or older.
By using our website, you consent to our Privacy Policy. If you have questions about our Privacy Policy, you may contact us at info@palyme.org.
Disclaimer
This publication is intended as a resource for people interested in learning about Lyme disease and other tick-borne diseases. The information presented is for informational purposes only and is not intended as legal or medical advice regarding the treatment of any symptoms or disease. Any information on the PALRN website or presented in meetings, activities, events, or publications is not intended to take the place of advice from your personal healthcare provider or other professional advisor. Articles, speakers, and links to other websites are provided only to facilitate research, and any information provided is the opinion of those who publish that information and not necessarily that of PALRN.
By using information provided by PALRN, including the website, PAlyme.org, you agree to hold PALRN and its officers and directors harmless from any loss or damage caused by reliance on information obtained from the website or any PALRN activity, event, publication, or meeting. PALRN and its officers and directors are not liable for any direct or indirect damages or any damages whatsoever resulting from loss of use, data, or profits, whether in an action of contract, negligence, or other tortious action arising out of or in connection with the use or performance of any information from PALRN's website, activities, events, publications, or meetings.
Revised July 2015
©2018 ALL RIGHT RESERVED PA LYME RESOURCE NETWORK.