Bitten: The Secret History of Lyme Disease and Biological Weapons
KRIS NEWBY
A riveting thriller reminiscent of The Hot Zone, this true story dives into the mystery surrounding one of the most controversial and misdiagnosed conditions of our time—Lyme disease.
Lyme: The First Epidemic of Climate Change
MARY BETH PFEIFFER
Lyme disease is spreading rapidly around the globe as ticks move into places they could not survive before. The first epidemic to emerge in the era of climate change, the disease infects half a million people in the US and Europe each year, and untold multitudes in Canada, China, Russia, and Australia.
Cure Unknown: Inside the Lyme Epidemic
PAMELA WEINTRAUB
A comprehensive book written about the past, present and future of Lyme disease, Cure Unknown exposes the ticking clock of a raging epidemic and the vulnerability we all share.A comprehensive book written about the past, present and future of Lyme disease, Cure Unknown exposes the ticking clock of a raging epidemic and the vulnerability we all share.
The Lyme Disease Solution
KEN SINGLETON, MD
The Lyme Disease Solution is a comprehensive guide to the diagnosis and treatment of Lyme disease and other tick borne infections. Dr. Kenneth Singleton, is a board certified specialist in Internal Medicine who himself struggled with Lyme disease for 8 years.
Gone in a Heartbeat; A Physician's Search
DR. NEIL SPECTOR
Dr. Neil Spector, one of the nation's top oncologists, was educated at prestigious universities, and trained at top medical centers. It seemed too perfect. A mysterious illness brought him to the brink of death.
Preventing Lyme and Other Tick-Bourne Infections
BOB OLEY, PE, MSPH
This book arms and informs you with crucial prevention measures and strategies that can make your life safer. It aims to unnerve you enough to start taking the necessary recommended prevention measures.
The Lyme Diet: Strategies for Healing
NICOLA MCFADZEAN, ND
This ground-breaking publication outlines many practical examples and strategies for implementing nutritional change – an essential tool for Lyme practitioners and patients alike.
The Diagnosis and Treatment of Babesia
JAMES SCHALLER, MD
This book is the most current and comprehensive book on Babesia, offering treatment options from both traditional and alternative medicine.
Why Can't I Get Better?
DR. RICHARD HOROWITZ
From one of the country's foremost doctors comes a ground-breaking book about diagnosing, treating and healing Lyme, and peeling away the layers that lead to chronic disease.
Compendium of Tick-Borne Disease
DR. KATHY SPREEN
This Compendium provides a comprehensive overview of tick-borne diseases including, descriptions, diagnostic approaches, treatment options, and an array of management plans.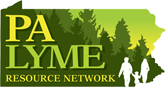 TERMS OF AGREEMENT
Privacy Policy
PALRN collects certain types of information about our users. This Privacy Policy tells you what kinds of information we collect and how we use it.
PALRN collects information from you when you respond to a survey or fill out a form. Any of this information may be used to improve our website or printed publications, to improve our organization's customer service, and to process transactions. We will not sell, give or otherwise exchange your personally identifiable information with any third party for any reason without your consent, other than for the purpose of delivering the product or service you requested. We may also release this information when we believe release is required to comply with the law, enforce our site policies, or protect our rights, property, or safety or that of others. We may provide non-personally identifiable information to third parties for marketing, advertising, or other uses.
We use a variety of security measures to protect the information you provide to us.
We will not knowingly collect information from anyone under 13 years of age. Our website, products, and services are all directed to people who are 13 years old or older.
By using our website, you consent to our Privacy Policy. If you have questions about our Privacy Policy, you may contact us at info@palyme.org.
Disclaimer
This publication is intended as a resource for people interested in learning about Lyme disease and other tick-borne diseases. The information presented is for informational purposes only and is not intended as legal or medical advice regarding the treatment of any symptoms or disease. Any information on the PALRN website or presented in meetings, activities, events, or publications is not intended to take the place of advice from your personal healthcare provider or other professional advisor. Articles, speakers, and links to other websites are provided only to facilitate research, and any information provided is the opinion of those who publish that information and not necessarily that of PALRN.
By using information provided by PALRN, including the website, PAlyme.org, you agree to hold PALRN and its officers and directors harmless from any loss or damage caused by reliance on information obtained from the website or any PALRN activity, event, publication, or meeting. PALRN and its officers and directors are not liable for any direct or indirect damages or any damages whatsoever resulting from loss of use, data, or profits, whether in an action of contract, negligence, or other tortious action arising out of or in connection with the use or performance of any information from PALRN's website, activities, events, publications, or meetings.
Revised July 2015
©2018 ALL RIGHT RESERVED PA LYME RESOURCE NETWORK.