Successful treatments for persistent and chronic Lyme and tick-borne diseases are rapidly emerging.
We'll keep this page updated with the latest treatment information.
Azlocillin:
Stanford University has been screening existing drugs for more effective treatment of chronic Lyme disease since 2011.  In 2016, they published a list of 20 top (already available) drugs that far exceed the effectiveness of current treatments.  They moved these drugs into animal studies.  Over the last few years, two drugs have surfaced – Disulfiram and Azlocillin.  Disulfiram is available now.  Azlocillin is approved, but not yet available in the U.S.  Azlocillin has been effective in killing drug-tolerant forms of B. burgdorferi in lab dishes.  The side effects of this drug are minimal.  Stanford patented the compound and is working with a company to develop an oral form of the drug.  Researchers plan to conduct a clinical trial.  This could be a real breakthrough!
Dapsone Combination Therapy:
Johns Hopkins Ying Zhang (MD, Ph.D.) has been very busy investigating better treatment strategies for persistent Lyme disease, finding that treatments for persistent tuberculosis have potential in chronic Lyme.  Clinical studies were published this year revealing successful outcomes.  This is a viable treatment option available now.
Disulfiram:
Ken Liegner, MD, took Stanford research into clinical practice in 2020 – publishing his research with 70 patients.  While the regimen is VERY difficult (any exposure to alcohol can create serious effects), many patients have resolved their symptoms, especially cognitive, and been able to live antibiotic-free with restored quality of life. Facebook groups tracking patient responses have emerged to support the patient journey with disulfiram.  Here is one such group.  Here is another.
MCAS Recognition:
The inflammatory aspect of Lyme and tick-borne diseases has been known for a long time, but only recently has Mast Cell Activation Syndrome/Disorder landed on the map for most Lyme practitioners.  Addressing MCAS has been life-changing for many Lyme patients and has created a pathway to improved quality of life, improving tolerance and effectiveness of treatment.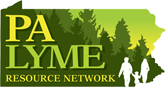 TERMS OF AGREEMENT
Privacy Policy
PALRN collects certain types of information about our users. This Privacy Policy tells you what kinds of information we collect and how we use it.
PALRN collects information from you when you respond to a survey or fill out a form. Any of this information may be used to improve our website or printed publications, to improve our organization's customer service, and to process transactions. We will not sell, give or otherwise exchange your personally identifiable information with any third party for any reason without your consent, other than for the purpose of delivering the product or service you requested. We may also release this information when we believe release is required to comply with the law, enforce our site policies, or protect our rights, property, or safety or that of others. We may provide non-personally identifiable information to third parties for marketing, advertising, or other uses.
We use a variety of security measures to protect the information you provide to us.
We will not knowingly collect information from anyone under 13 years of age. Our website, products, and services are all directed to people who are 13 years old or older.
By using our website, you consent to our Privacy Policy. If you have questions about our Privacy Policy, you may contact us at info@palyme.org.
Disclaimer
This publication is intended as a resource for people interested in learning about Lyme disease and other tick-borne diseases. The information presented is for informational purposes only and is not intended as legal or medical advice regarding the treatment of any symptoms or disease. Any information on the PALRN website or presented in meetings, activities, events, or publications is not intended to take the place of advice from your personal healthcare provider or other professional advisor. Articles, speakers, and links to other websites are provided only to facilitate research, and any information provided is the opinion of those who publish that information and not necessarily that of PALRN.
By using information provided by PALRN, including the website, PAlyme.org, you agree to hold PALRN and its officers and directors harmless from any loss or damage caused by reliance on information obtained from the website or any PALRN activity, event, publication, or meeting. PALRN and its officers and directors are not liable for any direct or indirect damages or any damages whatsoever resulting from loss of use, data, or profits, whether in an action of contract, negligence, or other tortious action arising out of or in connection with the use or performance of any information from PALRN's website, activities, events, publications, or meetings.
Revised July 2015
©2018 ALL RIGHT RESERVED PA LYME RESOURCE NETWORK.