Dedicated to providing Lyme Disease education, patient support and advocacy since 2012.
PA Lyme Resource Network, PALRN, was formally founded in 2012 by individuals compelled by personal experiences to help others affected by Lyme and Tick-borne diseases (Lyme/TBD). The founders and/or their family (often a child) all have Lyme/TBD. Each started or actively supported a local Lyme group. The "Lyme Journey" is often traumatic, not just because of the illness, but also the fear, uncertainty, frustration, anger, and financial hardship that often comes with it (read Cure Unknown, by Pamela Weintraub). The founders formed PA Lyme Resource Network to help others navigate this exceedingly complex and controversial disease.
LymeActionPA (LAP) www.lymeactionpa.com came first in 2007, with a focus on legislative action, to address the epidemic. LAP drove a grass roots effort across the state resulting in the 2014 passage of PA Act 83, the Lyme and related tick-borne disease surveillance, education, prevention, and treatment act, and also in denoting May as Lyme Disease Awareness Month in Pennsylvania each year. LAP served as the catalyst, bringing together the Lyme leaders who would go on to form PA Lyme Resource Network to align and enable Lyme Support groups across the state to accelerate and increase the impact on Lyme awareness, prevention and education in Pennsylvania.
Pennsylvania continues to be #1 in the U.S. in reported cases of Lyme disease, with cases increasing each year. A 2015 PA Department of Environmental Protection study reported Lyme and other Tick-borne diseases in all 67 counties in Pennsylvania. Prior to this Lyme was considered a regional issue (primarily Southeast Pennsylvania). The need for PA Lyme Resource Network's mission of Lyme prevention, support, education, and patient advocacy has never been more important.
PA Lyme Resource Network
211 South Main Street
North Wales, PA 19454
CONTACT PA LYME RESOURCE NETWORK LEADERS
Julia Wagner
President
Eric Huck
Vice President, Director of Regional Development
Kathy Rubel
Secretary
Jill Wichner
Vice President, Director of Social Media/Digital Marketing
Bill Moore
Vice President, Director of IT/Technology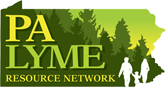 TERMS OF AGREEMENT
Privacy Policy
PALRN collects certain types of information about our users. This Privacy Policy tells you what kinds of information we collect and how we use it.
PALRN collects information from you when you respond to a survey or fill out a form. Any of this information may be used to improve our website or printed publications, to improve our organization's customer service, and to process transactions. We will not sell, give or otherwise exchange your personally identifiable information with any third party for any reason without your consent, other than for the purpose of delivering the product or service you requested. We may also release this information when we believe release is required to comply with the law, enforce our site policies, or protect our rights, property, or safety or that of others. We may provide non-personally identifiable information to third parties for marketing, advertising, or other uses.
We use a variety of security measures to protect the information you provide to us.
We will not knowingly collect information from anyone under 13 years of age. Our website, products, and services are all directed to people who are 13 years old or older.
By using our website, you consent to our Privacy Policy. If you have questions about our Privacy Policy, you may contact us at info@palyme.org.
Disclaimer
This publication is intended as a resource for people interested in learning about Lyme disease and other tick-borne diseases. The information presented is for informational purposes only and is not intended as legal or medical advice regarding the treatment of any symptoms or disease. Any information on the PALRN website or presented in meetings, activities, events, or publications is not intended to take the place of advice from your personal healthcare provider or other professional advisor. Articles, speakers, and links to other websites are provided only to facilitate research, and any information provided is the opinion of those who publish that information and not necessarily that of PALRN.
By using information provided by PALRN, including the website, PAlyme.org, you agree to hold PALRN and its officers and directors harmless from any loss or damage caused by reliance on information obtained from the website or any PALRN activity, event, publication, or meeting. PALRN and its officers and directors are not liable for any direct or indirect damages or any damages whatsoever resulting from loss of use, data, or profits, whether in an action of contract, negligence, or other tortious action arising out of or in connection with the use or performance of any information from PALRN's website, activities, events, publications, or meetings.
Revised July 2015
©2018 ALL RIGHT RESERVED PA LYME RESOURCE NETWORK.